The Regional Northeast partnership between American Airlines and JetBlue could spell trouble as a new White House administration gets up to speed.
Concerns swirl around transparency issues and monopoly on the D.C., New York, and Boston routes.
Even with the Trump Administration's conditions, the terms may not be adequate, unlike the partnership on the West Coast with Alaska Airlines.
While the last administration approved the venture, questions have arisen from competition from the new administration.
The issue is about how Congress and the U.S. agencies that approve the matter are questioning its transparency.
To understand what is going on now, one must look back to 2011 and 2014 to get a grasp on the current situation.
The American Airlines bankruptcy happened in 2011
Airlines in 2011 were on a more unstable footing. Delta and Northwest had a few years merged, United and Continental were merging, and American Airlines and U.S. Airways were the airline couple left out. American was in bankruptcy, and U.S. Airways was recovering from an earlier bankruptcy and merger with American West.
CEO's at the time before bankruptcy protection for American Airlines or the defunct AMR Corporation was Gerald Arpey. He also took the role of President and Chairman while Doug Parker was the CEO of the combined U.S. Airways by 2005.
Under Gerald Arpey, American Airlines fought off bankruptcy filings, as U.S. Airways emerged from it and targeted a reverse hostile merger with Delta Airlines.
Once Gerald Arpey knew there was no way out of a bankruptcy filing, he left the company, and Thomas Horton took American Airlines' reigns.
Two years later, the odd couple finds each other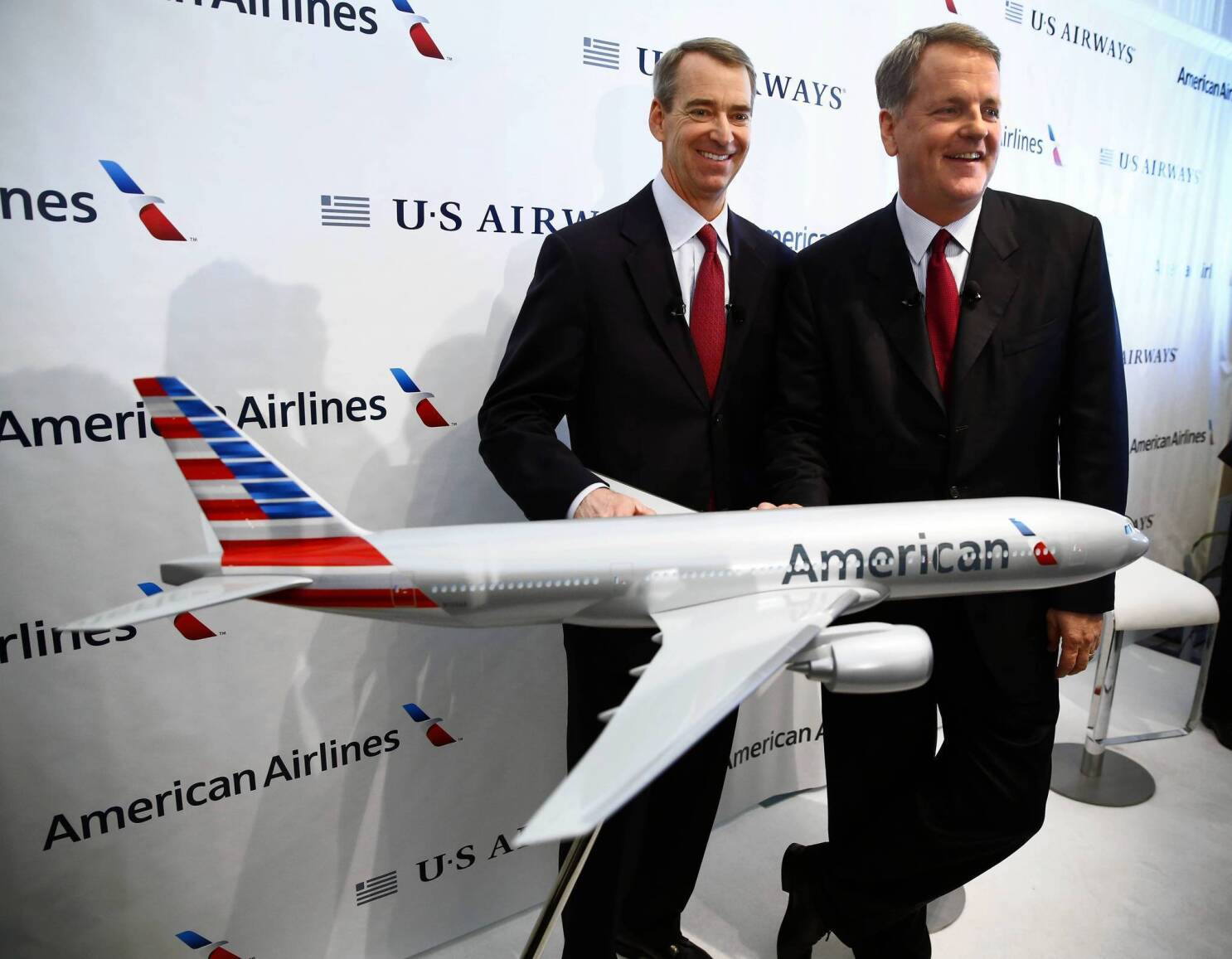 By 2013, American Airlines had changed its CEO, being Thomas Horton, the one taking the airline through bankruptcy filling. Once U.S. Airways decided to do a reverse merge and keep the American Airlines name, the antitrust fight became fierce.
The New American is Arriving. The Journey got contentious and interesting
As these two companies' journey got underway, the new American Airlines pulled no punches. The airline initiated a marketing campaign to soften blows and loyal members to giving arguments to the Department of Justice Antitrust Division.
The Department of Justice (DOJ) and six states with the District of Columbia brought the claim of less competition and higher prices looming.
The New American wasn't wasting time.
At the end, the Merger of American Airlines and U.S. Airways with the Department of Justice Antitrust Division settled on the following:
Washington Reagan National Airport (DCA)
Divestment of slots to 52 pairs.
La Guardia Airport (LGA)
Divestment of 17 slot pairs at New York LaGuardia Airport (LGA). Besides, the divestment included particular gates and related facilities to support service at those airports.
A slot pair is equal to a round trip for an aircraft and utilizing airport infrastructure services at a determined time.
BOS, ORD, DAL, LAX and MIA airports
The airline, in addition, also agreed to sell two gates and related support facilities at each of the following airports:
Boston Logan International Airport, Chicago O'Hare International Airport, Dallas Love Field, Los Angeles International Airport, and Miami International Airport.
The divestitures occurred through a DOJ approved process following the completion of the merger between American and U.S. Airways.
JetBlue, Southwest and Virgin America
JetBlue won 12 slot pairs at Washington Reagan, Southwest acquired 27 slot pairs.
Southwest Airlines and Virgin America gained access to New York La Guardia (LGA) and Washington D.C. Washington Reagan National Airport (DCA) through the DOJ process in 2013.
The main worry for the authorities was for the newly merged company to maintain several fortress hubs in the Northeast. Implementing these solutions eased the worry of monopolistic practices in the Northeast.
What does this have to do with JetBlue?
In 2014, JetBlue Airways and American Airlines exchanged slots in New York John F. Kennedy (JFK) and Washington Reagan National Airport (DCA).
American Airlines received 24 slots for John F. Kennedy International Airport, while JetBlue received 16 slots for Reagan National in D.C.
Those keeping the math, 52 plus 16 additional slots equals 68 pairs slots divested from Washington Reagan across from Washington D.C.
As time went by, the slots changed hands, and mergers occurred. For example, Southwest merged with AirTran, giving them almost an equal footing with American in slot controlled Washington Reagan (DCA).
Still, American Airlines maintains market share in Washington Reagan. It runs second at La Guardia and Boston Logan (BOS) and third at New York Kennedy (JFK) and Newark Liberty International (EWR).
It became a strength for American partnership means
Even with COVID and JFK's drawdown, the venture with JetBlue became a strengthening exercise for American Airlines. We are talking about cooperation at an unprecedented level over 190 flights across the board.
Close to 130 of these are American Airlines placing their code on JetBlue flights, and the rest are JetBlue placing their code on international flights.
While their partnership doesn't include Reagan Washington (DCA), it has a comparative advantage over this airport and John F. Kennedy. Remember that JetBlue acquired many slot pairs from American and the latter gained from a slot swap in JFK.
In an agreement from the Department of Transportation which the following information can be found on page 4 it has been agreed to the following:
John F. Kennedy (JFK)
The airlines agreed to divest a total of 7 slot pairs at JFK or 4 slots for AA and 3 for JetBlue).
Washington Reagan National Airport (DCA)
Divestment of 6 slot pairs at DCA or 4 slots for American and 2 for JetBlue.
Unfortunately, for antitrust experts, competitors to Congress members, this isn't enough as there wasn't a commenting period involved. And, the Department of Justice Antitrust Division didn't weigh on the matter, which is rather unusual for this kind of deal.
What the American – JetBlue partnership means
Author's Opinion
End Result: Under normal conditions, it is a bad deal for consumers, but under this awkward situation, it is survival.
American – JetBlue partnership Operations
This codeshare venture in the Northeast places American Airlines in a position of strength like never before since they never had to sell these slot pairs in the first place.
Besides, American Airlines utilizes JetBlue as a feeder for many of its northeast routes. American is abdicating its responsibilities as a company giving up competition and choice to the marketplace giving air service to a large population sector.
While American Airlines might want to cull RJ aircraft and feeders to give JetBlue space in exchange for bigger jets at La Guardia, it is like a merger in which one airline goes away, having less competition.
Better aircraft and schedules don't mean anything if one airline leaves the marketplace. It becomes inflationary, carries job cuts, and raises prices on all of us.
Besides, under the CARES Act, firing an employee while the airline receives funding from the United States Congress is deemed illegal.
American's partnership in the Northeast
American Airlines' partnership in the Northeast has a similar flavor to what the airline did with Alaska Airlines in the Northwest.
At the same time, it is incredibly ingenious on the part of American Airlines management, leaving markets in the Northwest and Northeast to others under a partnership.
However, having said that, the aviation prognosis could extend into 2021 as more variants of COVID appear and governments worldwide continue working on treatments and vaccines.
Meanwhile, this could become more commonplace as more airlines extend their olive branch to work together, demand softens, and people scrapped their plans.
The question remaining becomes whether this triggers a third round of airline mergers in the United States.
Time will answer that for us.
What do you feel about the proposed American – JetBlue partnership? Please let Alex Martinez Rivera know your thoughts by contacting him below.
Featured Image: LaGuardia (LGA), New York. Unsplash.